Uncategorized
Group Stage is Over: what took place in the quarters?
After three electrifying weeks of pure talent, cultural pride and sportsmanship, eight out of sixteen teams have qualified for the 2021 African Cup NSW tournament.
Well known teams like Ivory Coast, Sierra Leone, Mali, Tanzania, Nigeria and few others have had a surprised elimination in the group stage. Zimbabwe, Ghana, Cape Verde, South Sudan, South Africa, Sudan and Liberia advanced to the quarterfinals.
A phenomenal run was exhibited by quarter finalist in last week's matches. The 3:00 pm showing featured a battle between South Africa and Zimbabwe followed by Liberia and Sudan. A sensational rematch of last year's finalists, South Sudan and Ghana was set at 6:00 alongside Dr Congo and Cape Verde. 
Game 1: South Africa 3-1 Zimbabwe
South Africa with a 3-1 win against Zimbabwe progressed in semis after few years. Both teams brought an immense talent in this year's showing as evident in the 90-minute run which captured players showing in and out to secure a position in the semis. The first goal was scored by South Africa, few minutes later, Zimbabwe followed suit equalising. At the end of the exhausting battle, South Africa took the win home with a back-to-back goal adding their score line to 3.
Game 2: Liberia 3-0 Sudan
Two countries, different geographical location in Africa, Liberia from the west, Sudan from the north, contested against each other in the quarters. The return of Liberia and Sudan in this year's tournament has been nothing less than amazing. Mutually, these teams have carried change in team formation and have enthusiastically put on a show for their fans. Liberia, who was the better team, triumph with a 3-goal difference against Sudan, securing a spot in the Semis.
Game 3: Cape Verde 5-4 Dr Congo
#Banacongo, one of the oldest, #thebluesharksofcapeverde, second year returnees in the competition have had a successful run in their appearances in the African Cup. Cape Verde, 3rd runner up, Dr Congo 4th runner up in last year's showing, battled against each other in a thrilling match. The performance of both teams had their fans at the edge of their seat as they battle for a spot in the Semis. A back-to-back equalising goal were scored by well know players from both teams, Clement and Hassan. Unfortunately, Dr congo, the tournament highest scoring team, failed to score after Cape Verde's fifth goal which resulted to them being elimination in the quarters.
Games 4: South Sudan 4-1 Ghana
South Sudan and Ghana repeated history for the second time going against each other. The difference in this year's match is that, both teams met in the quarters, whereas, last year in the finals. A trailblazing performance that was expected was given to their fans in a spectacular way. In the first 20 minutes, Bright scored the first goal for team Ghana, along the line South Sudan scored 2 goals, a mind blowing one from Lino. After a difficult, yet breathtaking run from both worthy opponent, Ghana, the reigning and defending champions, conceded 3 extra goals, putting South Sudan through to the semis.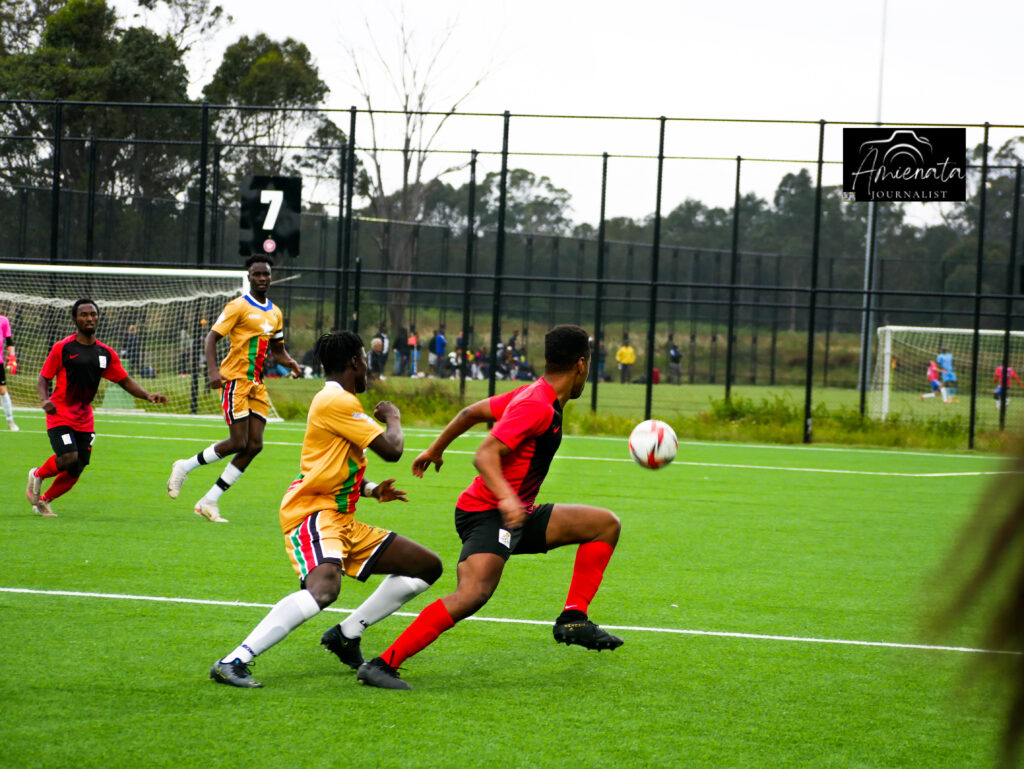 The semi's line up for tomorrow is a most watch.
Will South Sudan continue their reign in the competition with no match lost? Will Liberia hold its ground against Cape Verde? Come see for yourself as South Sudan verse South Africa at 3:00pm and Liberia go against Cape Verde at 6:00pm on field 7 at Western Sydney Wanderers for a shot at the finals.
The women's team will be having their third-round tomorrow with Ghana and Sierra Leone versing at 11: am and Morocco and Egypt at 1:00pm. Boy's competition first leg, South Sudan and Zimbabwe will also be playing at 9:00am.