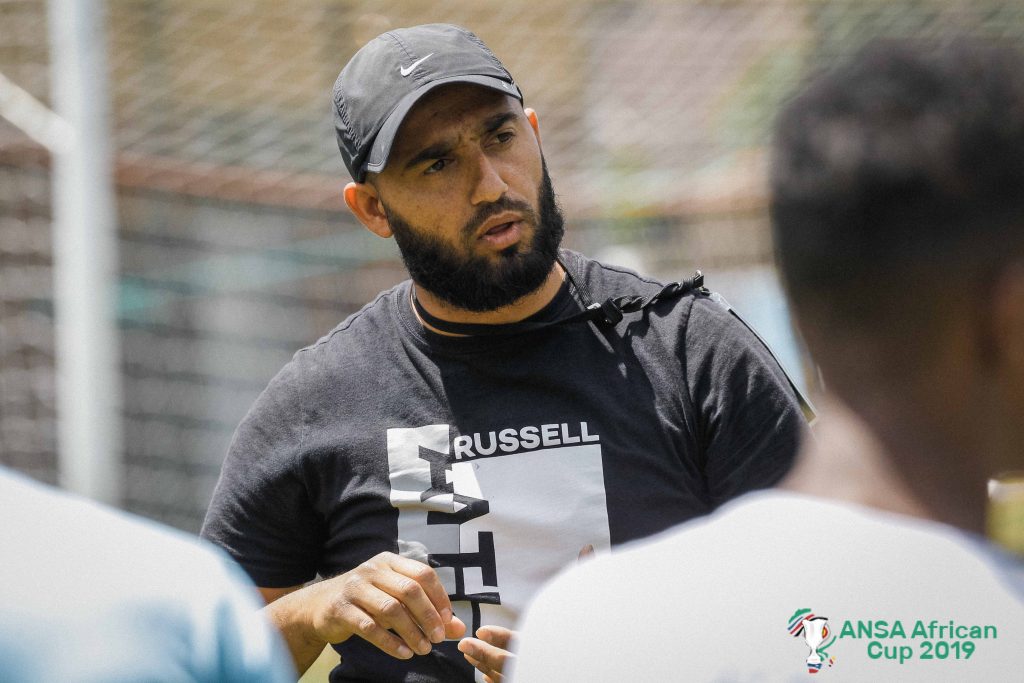 When the referee blew the whistle to end one of the best African Nations Cup 2019 matches, a stream of emotions was unleashed in Somali coach Houssan Hallak.
The penalty shootout win against 2018 finalists Liberia was not just seven weeks in the making – it was a decade in the making.
"I played in the 1-0 semi-final loss to Ghana in 2010 with the likes of Qassim, Liban Jama, Ismail Omar, Ahmed Hersi, Abdullahi Yasin and Mohammed Omar in goals," Hallak recounted.
"Now I am here as the coach of this beautiful Somali team. I am proud to be living this moment, I feel honoured to achieve this history with this amazing team because we have not qualified for the finals of the NSW African Cup of Nations since 2010."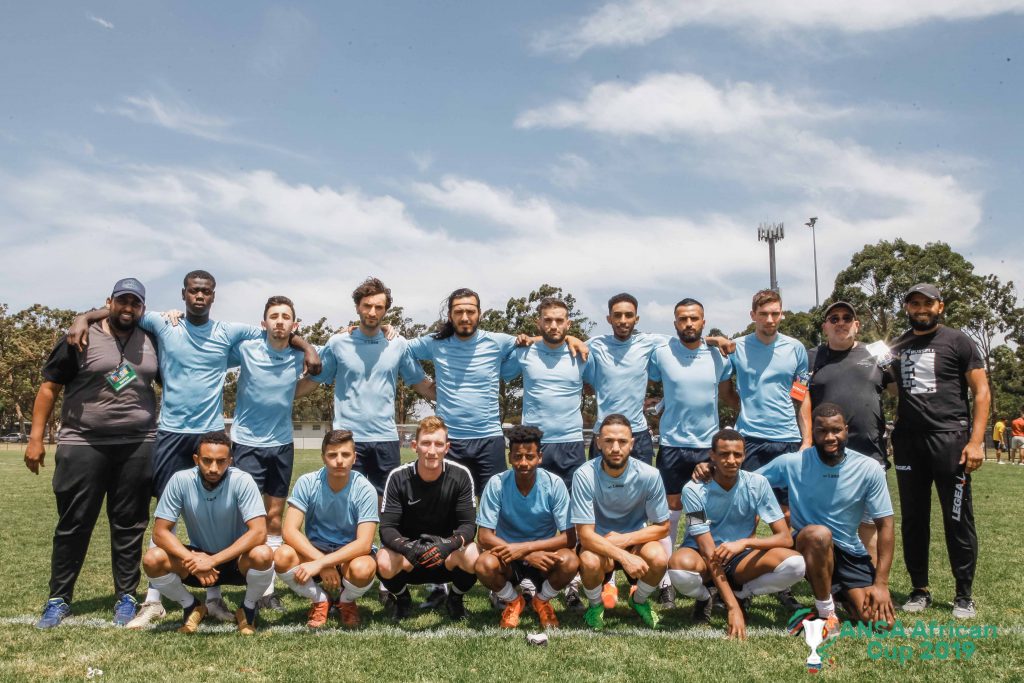 That long absence from the showpiece match meant that for many leading into the 2019 edition, Somalia were not considered one of the nations likely to lift the trophy in the minds of many.
However, Hallak and team managers Mohammed Omar and Steve Bazevski never considered anything but success for their team.
Drawn in a group that in hindsight was a the dreaded "Group of Death", from the first match the Somali's signalled their intentions – and it was a serious one.
"I always believed we would go a long way in this tournament," he said.
"Considering that the of the semi-final teams were from our group and having finished second in Group B, it was evident that our Somali team could make a huge statement this year."
The 2019 Somalia team has been a study in study in what bringing together a diverse team can create.
Not only is there a blend of youth and experience but also a blend of players from vast Australian cultural mix.
"The key to our success has been our unique bond of brotherhood. We have Somali, Iraqi, Turkish, Lebanese, Sudanese and Australian players who all love representing the Somali flag with pride."
"This team truly represents what it means to be Australian as the cultural diversity of our team symbolises all that is great about Australia."
"All the boys regardless of their background have been welcomed with open arms into the Somali family and we hope to make the Somali community in NSW and Australia very proud of this team come the Grand Final match."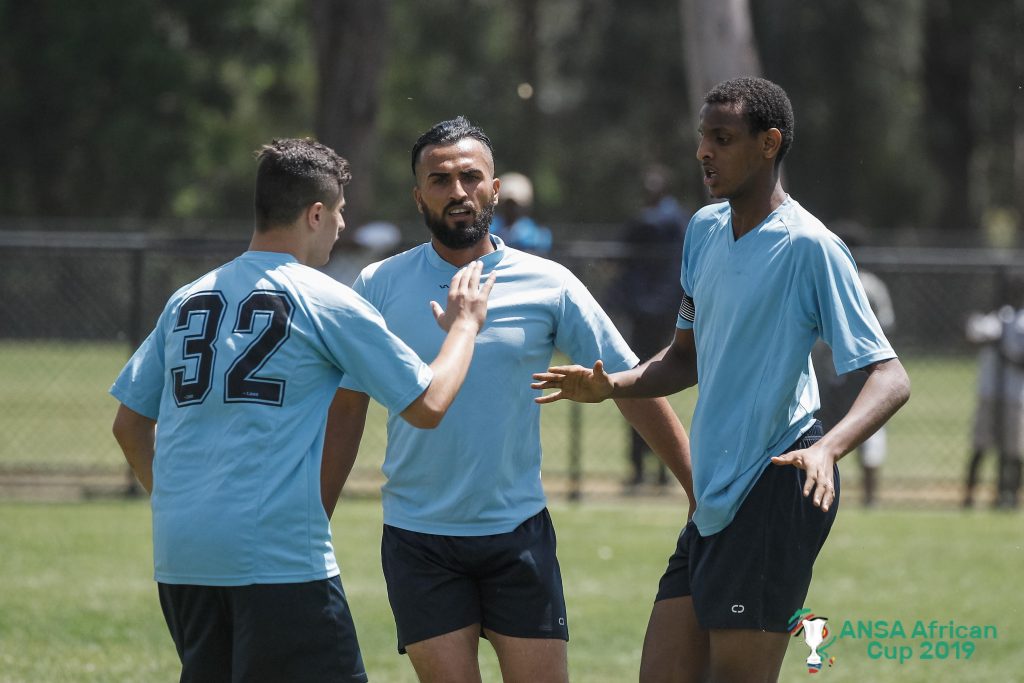 On the pitch, Somalia have played a mix of hard edged, tough, no nonsense defending, and possession based passing football.
That football style has been carried by all members of the squad from captain Keysar Abdi, to Aimar Yaseen to Yonatan Sebhatu and Jermal Ibrahim-Haas.
The other key ingredient for the Somali side has been the cohesiveness of the squad. Bringing together 25 players from diverse backgrounds is never easy but Hallak has enjoyed the challenge over the past two years and feels like this year, it has been an important factor.
"This Somali team is family to me. The togetherness is due to our strong brotherhood."
"I've known some of these boys from when they were toddlers and now, they have matured into young talented footballers who have what it takes to go pro if they remain focussed and disciplined."
Somalia are up against fellow Group B members and another unlikely finalist, Mali. While they will be on opposite sides on Saturday, many of the players are familiar with one another after playing together – and winning – the 2016 Australian Somali Football Championship in Melbourne.
That familiarity breeds respect and with former A-League player Alusine Fofanah Youth League players Hassan Jalloh, Sallu Kamara, John Roberts and Emmanuel Peters, Hallak knows they are in for a battle.
It is a battle he feels his team are ready for and will relish after pushing through tightly contested quarter final (South Africa) and semi-final (Liberia) matches.
"The Mali team are like our brothers," Hallak stated. "I have known most of the Mali players for a long time.
"We know how Mali play and what they are capable of on the pitch. They are true professionals on and off the pitch and they deserve every bit of success with their footballing careers as they have what it takes to play in the A-League."
"All of us are extremely hungry. It has taken us 10 years to try and get ourselves into this position, and now it is about coming out and enjoying it this weekend."
It's set up to be a titanic grand final struggle, with both teams feeling like they are playing for more than themselves. For Hallak, it would be the culmination of over a decade of participation in the ANSA African Nations Cup.
"This trophy would mean so much to our Somali community not only in NSW but in Australia and abroad."
"It's often said that sport can unify communities, bridging the gap between various cultures. And there's perhaps no better example of this in this Somali Team."
Houssan Hallak's final words are for all the long time supporters and sponsors.
"We would not have achieved this level of success if it wasn't for all the support and assistance we've received along this journey.
"I am calling on all Somalis residing in Sydney to come down to the final on Saturday 3pm kick off at Jensen Park, Sefton and support OUR Somali team in the final of the African Nations Cup NSW.
"It would mean so much for our diverse group of boys to see the Somali flag flying high on Saturday as we represent the Horn of Africa with pride."
________________________________________
GRAND FINAL DETAILS
Mali v Somali
Kick off: 3pm
Saturday, 7 December 2019
Jensen Park, Regents Park