For the first time in 23 years, the African Cup New South Wales taking place yearly, sees 38 teams from different divisions compete against each other. The competition (Comp) kicked off on 15 October with an increase of 20 teams in the senior male teams and six in the women's division, six U16, and Six U14 teams.
Senior male teams include the reigning and defending champions South Sudan, Sierra Leone, Ghana, Ivory Coast, Zimbabwe, Cape Verde, South Africa, DR Congo, Congo Brazzaville, Senegal, Sudan, Central African Republic, Egypt, Liberia, Madagascar, Tanzania, Cameroon, Nigeria, Togo, and Botswana.
The women's team includes defending champions Sierra Leone, Zimbabwe, Congo, Egypt, South Sudan, and Ghana. Under-16 teams are Congo Brazzaville, South Africa, South Sudan, Zimbabwe, and Egypt. Under-14 teams are Seychelles, Morocco, Zimbabwe, Egypt, Libya, and Sudan; this is the largest the comp has ever been.
What happened in the knockout stage?
After five solid runs of tremendous football, highlights of the senior's male group stage were when Sierra leone went head-to-head with South Sudan, ending their winning streak with a draw. After 90 minutes of physical anguish, Cape Verde vs. Nigeria match ended in a draw. Zimbabwe defeated all its opponents, making them the only team that won all their games in the group stage. A surprise win from Congo Brazzaville, one of the newest teams in the comp, eliminated team Ghana, the 2020 champions, with a beautiful header from Omar Touray. For the first time, DR Congo got eliminated in the group stage in their match against Nigeria with a 2-1 score line.
For the women's division, Congo girls beat the reigning and defining champions team, Sierra Leone, in their final group stage run. Team South Sudan girls changed the game's momentum, standing second behind team Sierra Leone making themselves a threat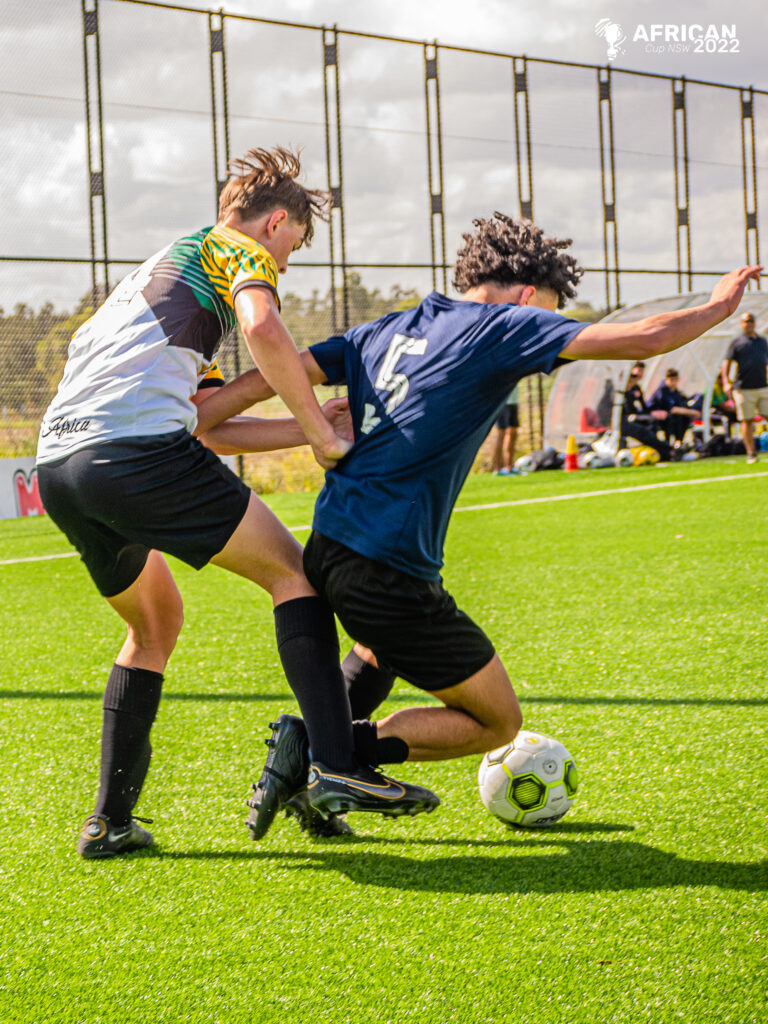 U16 and U14 appearances in the league showcased a spoil of young amazing, and skillful talents
Quarterfinals
Eight out of 20 teams made it to Quarter-final: South Sudan, Central African Republic, Sudan, Congo Brazzaville, Nigeria, Cape Verde, and South Africa. The sporting team showcased enthusiasm and sportsmanship in each appearance to secure a position in the semis. South Sudan won 2-0 against the Central African Republic, Sudan 2-1 against Congo Brazzaville, Zimbabwe 1-0 against Nigerian and Cape Verde, and 7-0 against South Africa.
Semi-Finals
Beautiful chaos between South Sudan and Zimbabwe ended in extra time after both teams failed to score an additional goal. Six minutes to the final whistle, Nathan, one of Zimbabwe's top players, scored a shocking goal eliminating South Sudan's quest to define their title in a 2-1 score line. Cape Verde triumphed against Sudan, 6-2, making them a finalist for the first time in 3 years.
African Cup NSW has reached the grand final stage with two of the competition's toughest teams, Zimbabwe and Cape Verde facing each other for the title on 17 December 2022, 5 pm, at Wanderer's Headquarters.
What these teams have in common is professionalism, young talents, experience, and pride in their country. With Kallie on the right, John attached, Hassan on the left for Cape Verde and Jamba on the backline, Brett in the mid, and Mandla on the right for Zimbabwe, the finale will be an eventful one.